The power of networking (and how you can do it from your couch)
Working with systems every day, it has become apparent that there is an exponentially increasing need for apps in the digital space to integrate or 'talk to one another'. Now more than ever, information is required to be quickly accessible by multiple systems to create opportunities and new ways of working.
Although it is a technical example, this is also one of the main reasons that personal networking in the new decade is very important. With a lot more time being spent at home this year, professional growth might not be the first task you are inclined to turn to – but you can make it fun.
I was initially introduced to the concept of networking during my first university lecture. In the first few minutes of the lecture, our class was told that we may be sitting amongst some of the most important people in our career and to dedicate as much time as possible to networking over the course of our degree. My view at the time was that hard work can get you anywhere, however over the years I have found this to be only partly correct.
I now understand the importance of creating strong connections and developing real interpersonal skills. I also have a newfound enjoyment for meeting new people and bringing together those that would collaborate well.
So, what are the benefits of creating your own new connections? Is it possible to spend less time creating strong connections that last forever? How can I do this from the comfort of my own home?
Scroll on down, dear reader, the answers you seek are below (alongside some great movie and game examples that might help develop your skills…)
How you can network more efficiently?
No matter how much pressure you feel you're under, it is still possible to meet people and start a working relationship – or friendship – without devoting a large percentage of your time. Regular day-to-day life requires a lot of work prioritising tasks and goals so here are three of the best ways you can network more efficiently:
Say 'Yes'
Before you go ahead and say yes to every request, there IS an obvious balance implied here. What I mean by "saying yes" is to put yourself out of your comfort zone and say yes to new events, opportunities to meet people or to small, simple requests that don't take too much time to complete for someone else's benefit.
In making sure that you're not going too far out of your way, helping someone by introducing one of your contacts or by giving them a small freebie you may have access to, might be the doorway to creating a strong network you may be able to call on in the future.
For an extreme (but not 100% realistic) example of what I mean, find the film 'Yes Man' (2008) and give it a critical viewing from a networking perspective.
Listen, actively and attentively.
For some, listening is not a strong point and this is okay. However, listening is how you can quickly learn. In industries where a small business network exists (such as events, hospitality or in startups), listening to information from your network will help you understand where you and your team sits, or simply learn new skills or tips.
The best way to practice listening skills is to ask questions, clarify any details you're unsure of and focus on the person you're speaking to. The goal of each conversation should become "I want to learn something from this person", and you can turn this into a regular habit by asking the person you're purchasing an item from a question unrelated to the purchase – give it a go!
One lesson you will learn from active listening is that you'll be surprised about some of life experiences, skills and lessons some in your network can provide. Don't believe me? You'll need to watch the film 'The Internship' (2013) to understand.
Take the time to check-in.
If you've ever played The Sims, you know how hard it can be to juggle those friend meters and maintain those friendships. You've also probably found that one of the best ways to maintain your simulated friendships within the game is to simply give your Sim friends a call (at a decent hour).
Checking in with friends or people in your network from time to time keeps you close and gives you the opportunity to find out about all the new experiences that person may be going through as well.
If you can't make it to see people in person, then posting content and being active on social media is also a great way to keep your network informed about what you are doing, and keep them invested in the projects you're working on.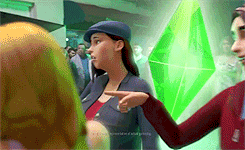 But I don't feel like networking right now….
Everybody is different, that is a given. Some enjoy the limelight and being centre-stage at events whilst others don't – it doesn't mean you can't find like-minded people to network with. The key to networking is practice and if you haven't started creating a professional network, it's never too late to start.
What's important to note is that from time to time, we all need to recharge. If you're not feeling like networking and need some 'me time', it is important to find your balance. Perhaps revert to social media until you are ready to take on extra commitments outside your daily routine.
Start networking from your couch
I was once told, "you would be able to run the world with just a mobile phone" (and I am by no means anywhere near the world's best networker!). Technology is the greatest benefit of the modern career; you can achieve almost anything from the comfort of your own home with just an internet connection.
With networking from home, the same principles I outlined above still work! Be sure to reach out to people, be attentive and offer virtual introductions where possible to create new opportunities and assist others who need a helping hand from people you may know.
A few extra rules may apply here. Be as diligent and consistent with replies as possible, try to practice proper messaging or email etiquette by taking an interest in people and always remember that your tone is not conveyed via instant messaging or email so, over-communicate!
What are you waiting for? Take your first steps.
Once you feel ready to extend your networking skills to the wider industry, be sure to set up and optimise your LinkedIn profile so that people can see what you're doing professionally and so that you can receive professional endorsements as well.
If you need further help in setting up your LinkedIn account, UTS Careers can help! You are now able to book a Virtual Drop-In appointment via UTS CareerHub by clicking here. These appointments should help you practice your networking and online networking skills, and offer an abundance of other career-related topics to speak about.
Happy networking, and see you in the digital space!
Featured image courtesy of Unsplash
Brett Neilson
Systems Coordinator
Brett Neilson is the Systems Coordinator within the UTS Careers Team. His experience varies widely across the arts, events and tertiary education spaces with experience in systems, operations, digital marketing, business development and sales. Brett has a passion for helping people develop their skillset and reach key goals.