How to Make it Shine in your next internship
You don't have to be afraid to put your dream in action

You're never gonna fade; you'll be the main attraction
~ Victoria Justice, Make It Shine
With summer closing in, internship programs are kicking off soon. We thought it might be a good time to give some simple advice to help you make the most of your new job! Except, this advice has a bit of a twist. The title of this post and the quote above might clue you in. Without further ado, here are five Victorious lyrics you can use to inspire you to make the most out of your next job.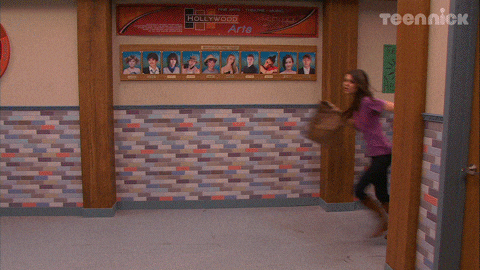 (GIF via GIPHY)
1. Reaching high.
Go big! Maybe your new role is only a short experience, or it feels like you aren't a massive part of the host organisation. However, if you go into this experience aiming big and trying to make an impression, you can set yourself up for success. Strive to succeed and stand out from the crowd of employees. Not to mention, you'll learn more the more you get involved.
2. Breathe it in to let it go.
Off the back of tip no. 1, don't overwork yourself. Give yourself the time and space to breathe and relax a bit. Make sure that in this new environment, you are taking time to work on yourself, growing your skills, and understanding where you are at. Balance is essential in making sure you don't burn out.
3. All we have is right now.
Don't get too hung up on the future. You can wait to figure out your next step. Your life will be a journey of change, and your career will unfold in ways you don't expect. Focus on the experience you're having right now, and let yourself take it in. Keep track of the things you are learning and the reflections you are making so that once it is over, you can process it all and use it to explore the future.
4. Just remember me.
Make connections, and make yourself memorable. As well as your work, and the effort you put in, people will remember you for your character and ability. Use this new opportunity to build out your industry connections. Keep track of them somewhere so that, down the line, if you need someone's expertise, you have someone to reach out to. You never know who you might meet.
5. I'm holding on but letting go.
Know that everything must come to an end sometime. Cherish this experience as it unfolds, but when the time comes, let it go. Hold on to the connections you make, the skills you learn, and the experience you get, but allow yourself to move on when you are ready.
(GIF via GIPHY)
Now go forth, and make it shine. Your future is waiting for you.
All lyrics from Victoria Justice' Make it Shine, Cover Photo by Nong V on Unsplash 
Amelia Bussing
Communications Assistant
Amelia is a Sydney-based writing and communications enthusiast working at UTS Careers as a Communications Assistant. She is a current UTS Student, studying a Bachelor of Communications (Creative Writing & Advertising), and a Bachelor of Creative Intelligence and Innovation. She is passionate about creativity, storytelling, and the art of a well-timed gif, and has a vast collection of crazy socks.